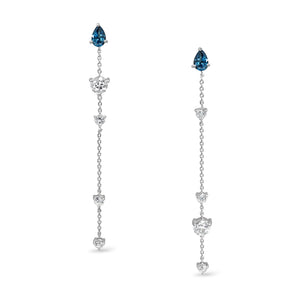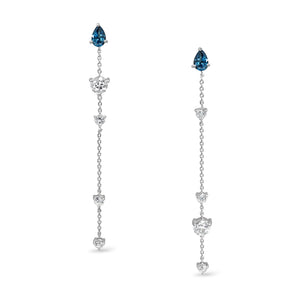 On Sale
Queen of Grace Earrings (London Blue)
Peacock, the queen of birds, with outstanding feathers, colors, and movements which are fascinating that you can't take your eyes off. Peacock naturally becomes the metaphor of fame and attention.
We picked this "outstanding" and "attractive" charm to creates the one jewelry which let you "shine" more than any others. With water drop-shaped emerald that beautiful like peacock feather, and colors that mysterious but graceful combined. 
Graceful and outstanding, worth for the Queen of Grace like you.
.
นกยูง สิ่งมีชีวิตที่ได้ชื่อว่า Queen of birds ด้วยลวยลายที่โดดเด่น สีสันที่ดึงดูด รวมถึงท่วงท่าการเคลื่อนไหวที่สง่าจนละสายตาไม่ได้ ไม่แปลกที่นกยูงจึงได้เป็นสัญลักษณ์ของชื่อเสียง และการดึงดูดความสนใจจากคนรอบข้าง
.
เราหยิบเอาเสน่ห์อัน "โดดเด่น" และ "ดึงดูด" นี้ มาสร้างเป็นเครื่องประดับที่จะเพิ่มเสน่ห์ให้คุณได้เฉิดฉายยิ่งกว่าใคร  ด้วยมรกตลวดลายทรงหยดน้ำที่งดงามเหมือนขนนกยูง และโทนสีที่ลึกลับแต่สง่างาม ผสมผสานลงตัว
.
สง่างามและโดดเด่น เหมาะสมกับ Queen of Grace  เช่นคุณ
---------------------------------------
.
Product Description
- Nickel Free (for sensitive skin)
- Gemstone : London Blue Topaz
- Gemstone : White Topaz