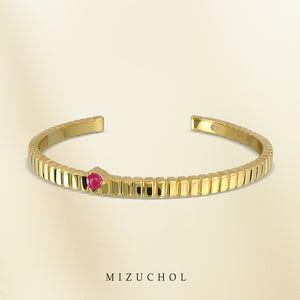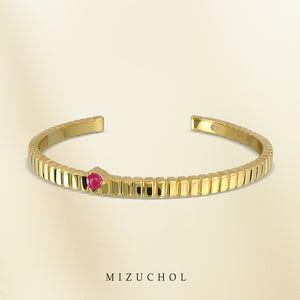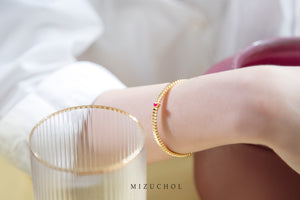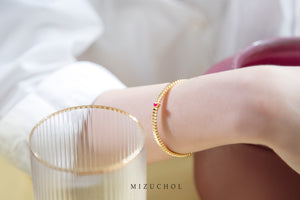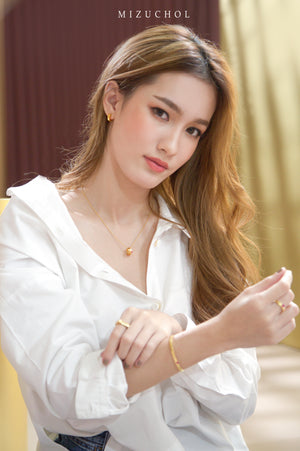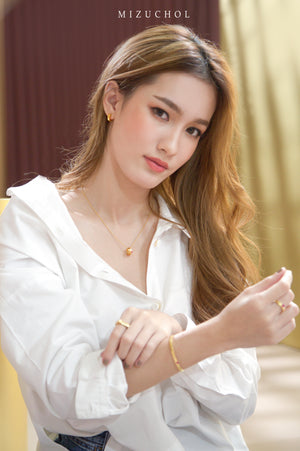 พลอย Ruby สีแดงสด สีที่ทำให้เรานึกถึงรอยลิปสติกสีแดง.. สีที่ทำให้ผู้หญิงรู้สึกมั่นใจและเหมือนควบคุมโลกได้ทั้งใบ  
กำไลเงินแท้ชุบทองคำแท้ 18K ดีไซน์คลาสสิก ที่ประดับพลอย Ruby สีแดงเล็กๆเม็ดนี้ เหมือนการทิ้งรอยจูบเล็กๆเอาไว้ โปรยเสน่ห์ความเป็นผู้หญิงของคุณที่ใครเห็นก็ต้องหลงรัก
.
พลอย Ruby หรือ ทับทิม  ตัวแทนของความสำเร็จ ลาภยศ ความร่ำรวย พลังอำนาจ และในด้านของความรัก มีความเชื่อว่าทับทิมจะช่วยเพิ่มความดึงดูดระหว่างคู่รัก กระตุ้นให้แสดงความรักกันมากขึ้น นำไปสู่ความรักที่สุขสมหวัง
.
The ruby-red ruby, in which reminds you of a lipstick kiss. The color that grants us confidence. This bright red color can make us, women, feel like we can control the whole world.
.
Silver bracelet coated with 18k gold, classic design. This little ruby is like a little kiss you've left to attract others. I bet they'll fall in love with your feminine charms.
.
The ruby, representation of victory, fortune, wealth, and power. For a relationship, there's a belief that ruby enhances the attraction between couples. It encourages one to show their love with their lover, and this situation leads to a fulfilled relationship. 
.

--------------------------
.
Product details
.
- Gemstone Cut : Diamond
- Gemstone Origin : Madagascar
- Sterling Silver 925 / Nickel Free
- 18K Gold Plated