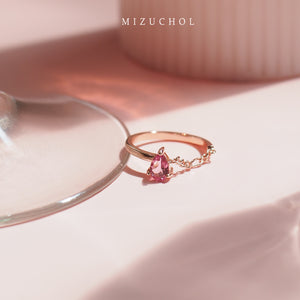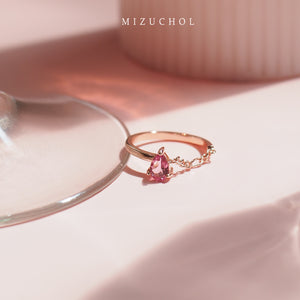 หยิบแก้วแชมเปญขึ้นมา แล้ว cheers! ชนแก้วฉลองให้กับความเป็นคุณที่ไม่ซ้ำใคร
ตั้งแต่ปลายผมจรดปลายเท้า ทุกรายละเอียดนี่แหละคือเสน่ห์ของคุณที่ไม่มีใครเหมือน รับแก้วไปค่ะเพื่อนสาว แล้วดื่มฉลองให้กับตัวเธอที่แสนวิเศษกัน!
.
พลอย Pink Tourmaline เจียทรงหยดน้ำ ดีไซน์เลียนแบบหยดแชมเปญสีชมพูในตัวเรือนสี Rose Gold Pink Tourmaline เป็นตัวแทนของความรัก เสริมสร้างเสน่ห์ มีพลังที่จะนำพาความรักและความอบอุ่นเข้ามาหาผู้ครอบครอง
.
อีกทั้งยังช่วยปรับสมดุลให้กับร่างกายและจิตใจ บำบัดความเครียด คลายความทุกข์ เกิดความสงบ สามารถแก้ปัญหาได้อย่างมีสติมากขึ้น
Put your glass up, cheers!, for the head-to-heal exceptionally beautiful you. Each detail reflects the unique charms of yours, so take up your glass, and sip for yourself.
.
The water-drop-styled pink tourmaline, imitates each drop of pink champagne, captured in a rose gold jewelry.
.
Pink Tourmaline reflects love, enhances charm, and brings you love and warmth. This gem balances the health of your body and mind, releases your stress, brings you peace, and the ability of problem solving. 
.
---------------------------
.
Product details
.
- Gemstone : Pink Tourmaline 6x4
mm
- Gemstone Cut : Drop

- Gemstone Origin : 
Mozambique
- Sterling Silver 925 / Nickel Free
- 18K Rose Gold Plated