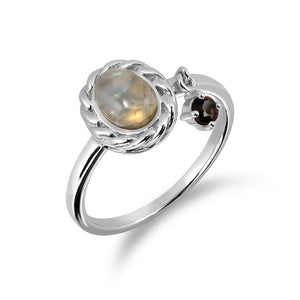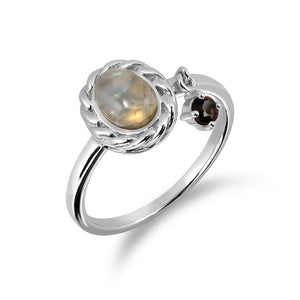 Labradorite คือหินแห่งการปกป้องดูแล คุ้มภัย
ให้พลังด้านจิตใจ ทำให้เกิดความเชื่อมั่น กล้าหาญ สามารถตัดสินใจในเรื่องต่างๆได้อย่างง่ายดายมากขึ้น
สำหรับเรา หินสีเทาอ่อนมีประกายสวยงามที่ชื่อ 'Labradorite'
 จึงเป็นเหมือนคุณนางฟ้าแม่ทูนหัว เป็นเทพธิดาผู้พิทักษ์ที่คอยโบกไม้คฑา ดูแลสาวๆ Mizuchol ให้ปลอดภัยและมีความสุข
หยิบ Guardian Angel  ขึ้นมาสวม แล้วออกไปทำในสิ่งที่ตัวเองอยากทำได้เลยนะ ไม่ต้องห่วง นางฟ้าแม่ทูนหัวจะช่วยระวังหลังให้เธอเอง
"Labradorite" is the stone of protection. It compliments your power of mind, brings courage and bravery. For us, this greyish gleaming stone called "Labradorite" is like your guardian angel who use her magic to protect and bring happiness to our Mizuchol ladies.

Let's wear this Guardian Angel Ring, and do whatever you dream of. No worries, your  guardian angel will always watch your back!

-------------------------------
Product Description
.
- Nickel Free (for sensitive skin)