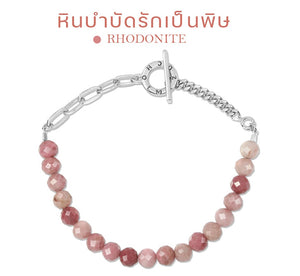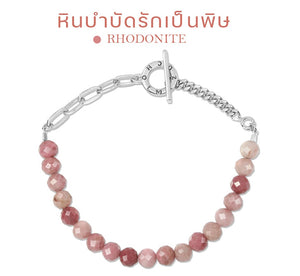 On Sale
Spell of Rhodonite Bracelet - บำบัดรักเป็นพิษ
หิน Rhodonite มีความเชื่อในการใช้เพื่อบำบัดรักเป็นพิษ
ปลอบโยนคนที่กำลังมีปัญหาให้สามารถเห็นสาเหตุของปัญหาต่างๆได้ชัดเจน
สามารถเข้าใจตัวเอง รวมถึงรักตัวเองและเห็นข้อดีในตัวเองมากขึ้น ป้องกันความรู้สึกหวาดระแหวงและความหึงหวง
.
นอกจากนั้นยังเชื่อว่าสามารถบำบัดบาดแผลทางอารมณ์ได้ ช่วยให้จิตใจสงบ และเข้มแข็งขึ้นในที่สุด
Rhodonite is a healing stone. People belive that it can help you see through problems and understand more about how you feel.

As a healing stone, your trauma will be slowly healed. You'll feel less paranoid and jealous, and eventually you'll feel calm through time.


.
-------------------------
.
Product Description
.
- Sterling Silver 925
- Nickel Free (for sensitive skin)
- 18K Rhodium Plated
- Stone : Rhodonite
- Handmade
- Size 16 : for wrist size 14.5 - 16 cm
- Size 18 : for wrist size 16.5 - 18 cm