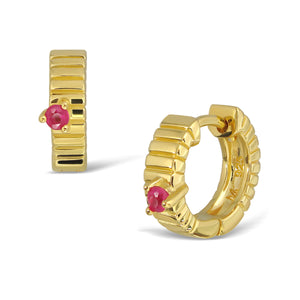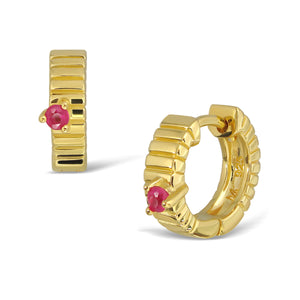 On Sale
Taste of the lips Earrings - Ruby
เครื่องดื่มสีทอง แก้วหนึ่งใบ กับรอยลิปสติกสีแดงที่เธอฝากไว้ที่ปากแก้ว - ทั้งหมดนี้คือแรงบันดาลใจของแหวนและต่างหูในเซ็ตนี้
.

ตัวเรือนดีไซน์เลียนแบบลอนของแก้วบรั่นดี ประดับพลอย Ruby เล็กๆ ตัวแทนของรอยจูบทรงเสน่ห์ของเธอผู้เปล่งประกายที่สุดในคืนนี้
.

พลอย Ruby หรือ ทับทิม  ตัวแทนของความสำเร็จ ลาภยศ ความร่ำรวย พลังอำนาจ และในด้านของความรัก มีความเชื่อว่าทับทิมจะช่วยเพิ่มความดึงดูดระหว่างคู่รัก กระตุ้นให้แสดงความรักกันมากขึ้น นำไปสู่ความรักที่สุขสมหวัง
.

Golden beverage, glimmering glass, with a red lipstick stain on top -- This is the inspiration of our rings and earrings in this collection.
The body imitates the pattern on a brandy glass, engraved herein a ruby, the representative of a remarkable kiss from the most shining lady we've seen tonight. 
.
The ruby, representation of victory, fortune, wealth, and power. For a relationship, there's a belief that ruby enhances the attraction between couples. It encourages one to show their love with their lover, and this situation leads to a fulfilled relationship. 
.

---------------------------
.
Product details
.
- Gemstone Cut : Diamond
- Gemstone Origin : Madagascar
- Sterling Silver 925 / Nickel Free
- 18K Gold Plated